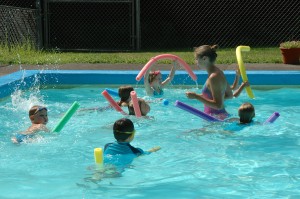 Knollwood is proud to offer 6 levels of American Red Cross swim lessons taught by a certified Water Safety Instructor. The American Red Cross's curriculum offers a comprehensive, developmentally appropriate swimming and water safety program that teaches your child how to swim skillfully and safely, as well as think and act safely in, on and around the water. The prerequisite for each level is the successful demonstration of skills from the preceding level, except for Level 1, which has no prerequisites. More details about the six levels of instruction: American RedCross Swim Levels
Schedule:
Lessons are Monday through Thursday for approximately 7 weeks
Lesson occur between the hours of 8:30am – 12:30pm
30 minutes per lesson – start times vary by level
*Classes will be held on rainy days. Safety skills are taught on days when it may be unsuitable for swimming. The skills taught are just as important as other skills for course completion.
Fee:
Members: FREE
Non- Members: $165 per child; when space permits.
For more information on swim lessons at Knollwood Swim Club, please contact:
Colleen Cross: colcross@rochester.rr.com